https://shop.crayola.com/color-and-draw/broad-line-markers-classic-colors-10-count-5877228020.html
Description
Crayola Broad Line Markers are great for any child looking to create with ease, in school and at home! Featuring 10 vibrant colors, Crayola Markers are a classic art tool for arts and crafts, school supplies, and more. Long-lasting and durable, conical tips make it easy to color in detailed areas or lay down full coverage lines. Be sure to bring these kids markers out on rainy days or long car rides to help pass the time. Pair with a Crayola coloring book (sold separately) for a great bundled gift for kids. Safe and nontoxic, ages 3 and up.
Recommended
for ages 3 years and up
Features
CRAYOLA MARKERS: Features 10 Broad Line Markers in classic colors.
SCHOOL SUPPLIES: A popular item on back to school lists for school projects, homework, and crafts.
THICK &THIN LINES: Broad Line Markers with conical tip allows kids to color with thick lines or draw with thin lines.
BROADLINE MARKERS: Create colorful masterpieces with thick or thin lines. Keep in mind, these markers contain colorants that may stain.
SAFE AND NONTOXIC: Great coloring supplies for kids, ages 3 & up.
Inspiration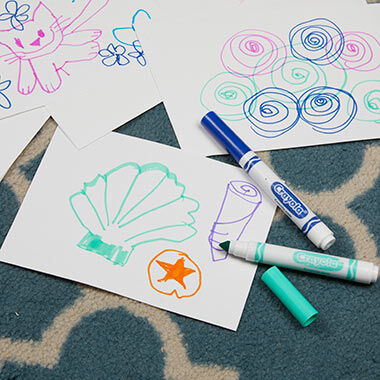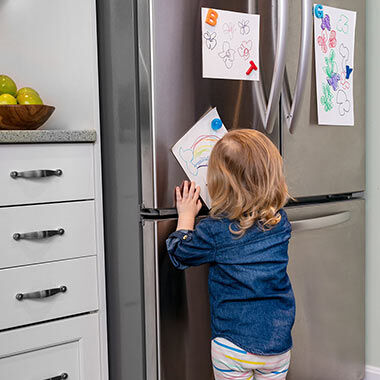 How long are broad line, fine line, and dual-ended Crayola markers?
Hi turtlerabbit, That's a great question and I'd like to help! Our Broad Line Markers measure about 137.4 mm or 5.41 inches in length and our Fine Line Markers measure about 154.5 mm or 6.08 inches in length. While I'm not clear which dual-ended marker you have, we still would like to get you that measurement. Please give us a call at 1-800-CRAYOLA with the product code number and name of the dual-ended marker. We'd be happy to research your request further.
Date published: 2022-10-03
What kind of ingredients are in these markers?
Denny here! The basic ingredients in Crayola Markers are water and dye. While the exact ingredients are proprietary, at this time, the most common ingredient requests NOT FOUND in products currently manufactured by Crayola, is available on Crayola.com. I have the list below, but keep in mind it does not apply to licensed products, such as Crayola-brand bath, personal care, or food items, which are manufactured by licensing partners. Please check the back of the packaging for manufacturer details. If the ingredient in question is not included on this list and is due to a medical concern, please contact us at 1-800-CRAYOLA. Hope this helps! Casein Eggs & Egg Shell Fish/Shellfish Latex* Milk Nut & Nut Oil Peanuts Red Dye #40 Sesame & Sesame Oil Tree Nuts Whey *It is possible that latex gloves may have been worn during the manufacture and distribution of raw materials, components, or finished goods.
Date published: 2022-09-25
We bought these Crayola washable markers for my granddaughter, but we have tried everything to get it off her hands and face, clothes no problem, it's on her skin we can't get it off.... We tried all your suggestions but nothing working
Denny to the rescue! When soap and warm water don't do the trick, try using baby wipes, baby oil, or make-up remover. Non-washable Crayola Markers are water-based, so while they may not be as easy to clean off the skin as our washable markers, the stain will fade with repeat gentle washings. Hope this helps!
Date published: 2022-07-31
Are these washable 
Denny has the details! The Crayola 10-count Classic Broadline Markers are not washable. If you are looking for markers that clean off the skin, most launderable clothing, and painted walls, check for Crayola Ultra-Clean Washable Markers. Hope this helps!
Date published: 2022-07-31
Are these "washable" markers? Other boxes say "washable" but this one doesn't.
Denny to the rescue! Although this set of Crayola Markers is not "washable", we've got you covered. Check for Crayola Washable and Ultra-Clean Washable on the packages that are formulated to clean easily from most clothing and skin. Hope this helps!
Date published: 2022-07-27
what is the best way to get marker stains out of clothing
I'd be happy to help! Rinse the stain from the fabric with cold water until no more color is being removed. After that, place fabric on paper towels and saturate with rubbing alcohol using a cotton ball to blot the stain. Replace the paper towels as often as needed. Wash in hot water with laundry detergent and bleach for colored clothing and rinse in warm water. Hope this helps!
Date published: 2022-07-27
how do you clean the colors off skin
Denny to the rescue! I'd suggest washing the skin with soap and water. If you are unsuccessful, try using baby wipes, baby oil or make-up remover. Since Crayola markers are water based, the stain will fade after repeated skin washing. Hope this helps!
Date published: 2022-07-27
Hi! Are these markers washable if they don't specifically indicate so on the packaging? Thanks so much!
If washability is important, I'm glad you asked. This set of Crayola Markers are not washable. Our vibrant marker colors that wash off launderable clothing and skin are labeled on the package as Washable Markers or Ultra-Clean Washable Markers. Fun fact - our Ultra-Clean Washable Markers even clean off painted walls! Hope this helps answer your colorful question.
Date published: 2021-12-29
bvseo_sdk, dw_cartridge, 21.1.0, p_sdk_3.2.0
CLOUD, getContent, 147ms
questions, product